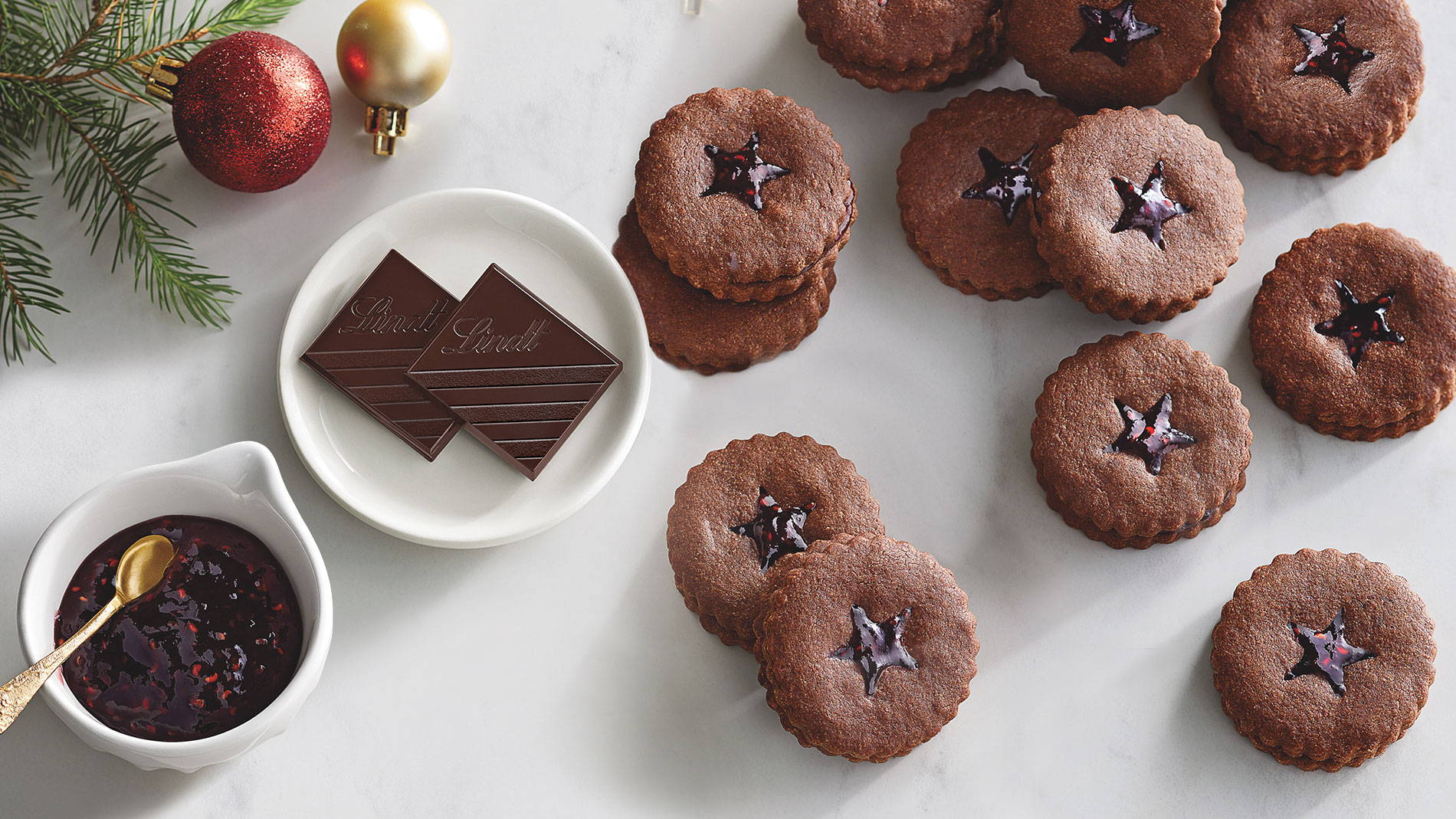 Lindt Austrian Linzer Chocolate Cookies
PREP TIME: 15 MINUTES COOK TIME: 40 MINUTES (+ CHILLING TIME) SERVINGS: 30–36 COOKIES

An eye-catching holiday cookie is reinvented with Lindt Excellence.
Lindt Austrian Linzer Chocolate Cookies
PREP TIME: 15 MINUTES COOK TIME: 40 MINUTES (+ CHILLING TIME) SERVINGS: 30–36 COOKIES

An eye-catching holiday cookie is reinvented with Lindt Excellence.
Linzer cookies are beloved for their sandwich layers and trademark jam peephole. We've added dark chocolate for a new twist on an old favourite.

1 bar (100 g) Lindt Excellence 85% Cacao Dark Chocolate, finely chopped

2¼ cups (560 mL) all-purpose flour

½ cup (125 mL) almond flour

¼ cup (60 mL) cocoa powder

½ tsp (3 mL) salt

1 cup (250 mL) unsalted butter, room temperature

½ cup (125 mL) Redpath® Granulated Sugar
½ cup (125 mL) Redpath® Golden Yellow Sugar (light brown sugar), packed

1 large egg

1 tsp (5 mL) pure vanilla extract

½ cup (125 mL) jam (we used raspberry)
Melt chocolate in a clean, dry heatproof bowl on top of a saucepan with a few inches of simmering water. Do not let water boil. Alternatively, melt chocolate in a microwave-safe bowl. Melt in 20- to 30-second increments, stirring every 20 seconds. Set aside to cool.
In a separate bowl, whisk together all-purpose flour, almond flour, cocoa powder and salt.
In the bowl of a stand mixer (or use a large bowl with an electric hand mixer), beat butter and sugars on medium-high speed until well combined, scraping down sides, 1 minute. Beat in egg and vanilla until well combined. Scrape in chocolate and beat to mix. Tip in flour mixture and mix on low speed until a dough forms. Gather into 2 balls, then flatten each into a disc. Wrap in plastic wrap. Chill for 1 hour.
For easy rolling, dust a large sheet of plastic wrap with cocoa powder. Place 1 disc of dough on top. Lightly dust dough with cocoa. Top with another sheet of plastic. Roll out dough to ⅛ inch (3 mm) and no thicker than ¼ inch (6 mm). Use a 2-inch (5-cm) fluted round cutter to cut out rounds. Repeat with remaining disc of dough. Using a small ¾-inch (2-cm) or 1-inch (2.5-cm) star cutter, cut out centre of half of the rounds. Re-roll scraps. Place cookies 1  inch (2.5  cm) apart on parchment-lined baking sheets. Chill for 30 minutes.
Preheat oven to 350°F (180°C). Bake cookies until edges are firm, about 8 to 10 minutes. Let cookies cool 5 minutes before removing to a rack to cool completely. Place a heaping ½  tsp (3 mL) of jam on bottom of whole cookies. Top and sandwich with cut-out cookies.
---