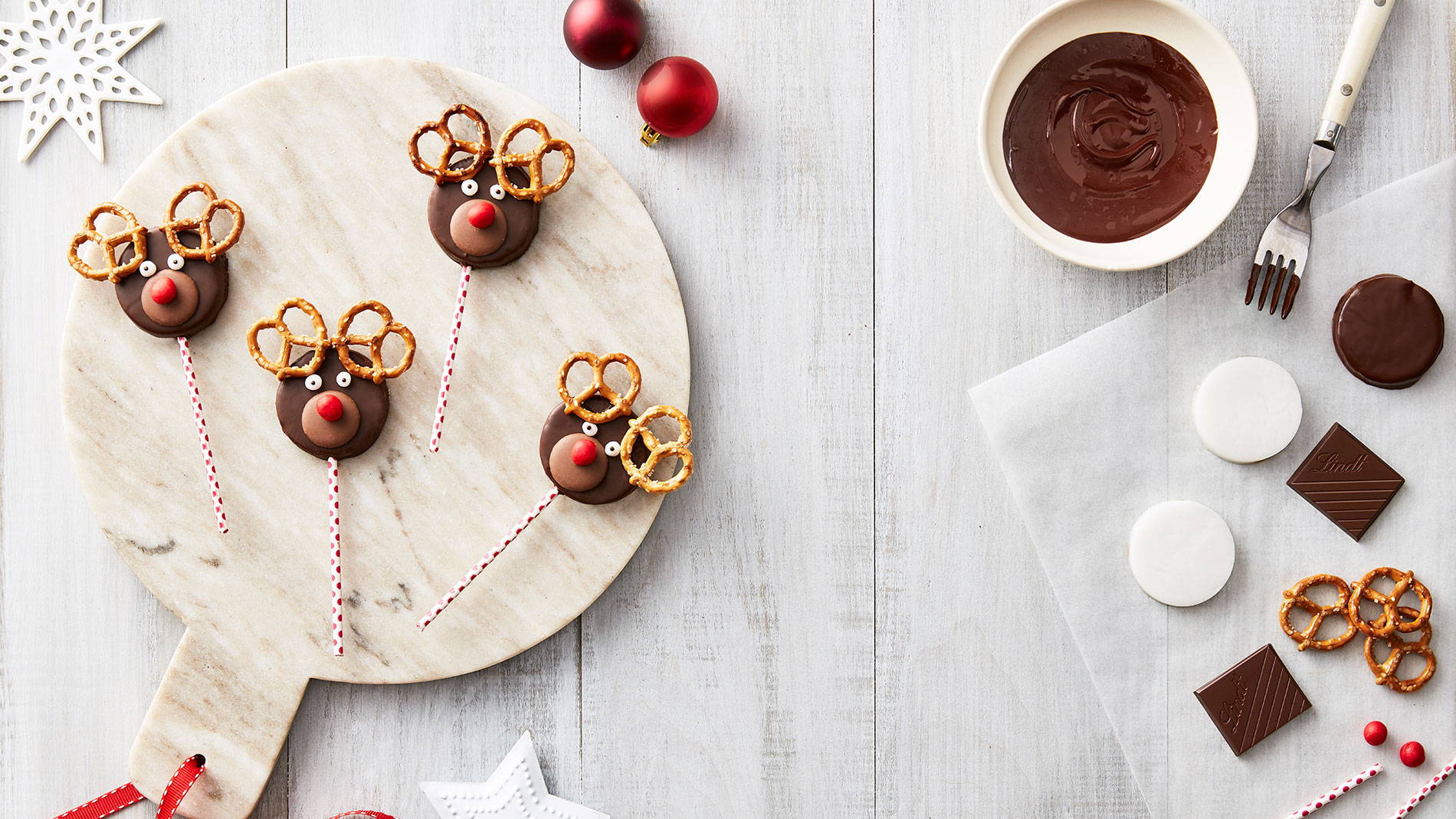 Lindt Rudolph Peppermint Patties
PREP TIME: 45 MINUTES (+ 30 MINUTES CHILLING) COOK TIME: 5 MINUTES SERVINGS: 20 RUDOLPH FACES

This fun take on a classic peppermint patty is equal parts treat and craft
Lindt Rudolph Peppermint Patties
PREP TIME: 45 MINUTES (+ 30 MINUTES CHILLING) COOK TIME: 5 MINUTES SERVINGS: 20 RUDOLPH FACES

This fun take on a classic peppermint patty is equal parts treat and craft
Linzer cookies are beloved for their sandwich layers and trademark jam peephole. We've added dark chocolate for a new twist on an old favourite.

---
Peppermint Centre

⅓ cup (75mL) coconut oil
⅓ cup (75mL) light corn syrup
1 tsp (4mL) peppermint extract
2¾ cups (675mL) icing sugar

Chocolate Coating

1½ bars (150g) Lindt Excellence Intense Mint Dark Chocolate, finely chopped
2 tsp (8mL) coconut oil

Royal Icing

2 lb (900g) confectioner's sugar, plus more if needed
½ cup (125mL) meringue powder
½ to ¾ cup (125 to 175mL) warm water
Food colouring, if desired

Rudolph's Face

¼ cup (60mL) white fondant
A few drops of red food colouring
20 round milk chocolate wafers
40 salted pretzels
20 decorative straws or skewers
In the bowl of an electric mixer, combine coconut oil, corn syrup and peppermint extract. Add 1 cup (250mL) of icing sugar and mix on low until combined. Add remaining icing sugar ½ cup at a time. Increase speed to medium and continue to mix until a stiff dough forms (about 2 minutes).

Form mixture into a large ball. Line a work surface with wax or parchment paper. Using a rolling pin, roll out into a sheet ½ inch thick. If dough is sticking to the rolling pin, lightly dust with icing sugar. Place dough on a parchment paper-lined baking sheet and set in refrigerator to chill for 15 minutes.

Remove from refrigerator and cut out 20 round patties, each 2 inches (5 cm) in diameter. Re-roll scraps and repeat process. Store patties on a lined baking sheet.

Place Lindt chocolate and coconut oil in a heat-proof bowl set over simmering water on the stove. Do not boil water. Stir chocolate until melted, then remove from heat. Let cool slightly.

Place one patty on the tines of a fork and dip into chocolate. Allow excess chocolate to drip off, then place patty back on lined baking sheet. Continue with remaining patties, heating the chocolate as needed.Insert a decorative straw or skewer into the bottom of each Rudolph peppermint patty. Reserve about 1 tbsp (15mL) of chocolate and set aside.

Place chocolate-covered patties in refrigerator until chocolate is set (about 30 minutes).

To make royal icing, combine meringue powder with 2 tbsp (30mL) of water and beat with an electric mixer until thick and opaque. Slowly stir in 1 cup (250mL) of icing sugar. Continue to add icing sugar until royal icing is thick and paste-like. Add water, teaspoon by teaspoon, to thin out if needed. Transfer to a small piping bag.

Divide fondant into two equal portions. Form 40 small balls from one portion. Mix red food colouring with remaining portion until colour is blended and bright red. Form 20 small balls from the red fondant.

Remove patties from refrigerator. To make the muzzle, apply royal icing onto the flat side of a milk chocolate wafer and stick onto the bottom third of the peppermint patty. To make the nose, dab royal icing on one side of a red ball and place in centre of the chocolate wafer. To make the eyes, dab royal icing on two of the white balls and place above the chocolate wafer. Press to flatten slightly. Dab royal icing on 2 pretzels and stick on top edge of patty to form antlers.

Set reserved chocolate over heat again to re-melt. Place melted chocolate in a small piping bag with a pin-sized tip. Pipe a chocolate "pupil" on each white fondant ball. Repeat with remaining patties and allow to set for 10 minutes. Enjoy immediately or refrigerate until serving.
---